Forum rules
Welcome to the system! If you're a new member we'd suggest making a first post here so that the members know you're alive & on-board!
Purchased this 2015 from the Mobile auction last year and finally getting around to making it road worthy. Plans are complete SS interior, carpet, and Aussie exterior upgrades. Working on the dash swap now.
Attachments

20210529_125735.jpg (6.41 MiB) Viewed 381 times

20210529_123113.jpg (6.13 MiB) Viewed 381 times

20210524_185206.jpg (5.77 MiB) Viewed 381 times

176_3704_2.jpg (105.95 KiB) Viewed 381 times
---
System Manager
Posts: 2011
Joined: Thu Nov 29, 2012 4:32 pm
Location: East Central Florida
Contact:
Looking good. Did you do the front end rebuild yourself or did you contract it out?

Welcome!
Eric
System Manager and your tourguide for the day. 2015 Caprice 3.6, former NC DPS car, for right now bone stock., .
---
Did the work myself. I do all my mechanical, electrical, and paint and body work. Here's a picture of my 71 Chevelle I built back in 2010. It has a '05 Corvette LS2 with a TKO-600 5 speed.

I bought a '12 PPV parts car that had been wrecked on the passenger rear. Also, I have a friend that buys these PPVs for the drivetrain, so I have a source for parts when needed.
Attachments

20200214_100932.jpg (9.17 MiB) Viewed 369 times
---
That Caprice is gorgeous. I like the Chevelle too. I got a soft spot for old GM's. My Caprice has re-energized my GM enthusiasm. In the "olden' days", I had a 65 Impala (283 and a 'glide), 69 Camaro (305 !?), 71 Nova (307), 73 Nova, 75 Nova (6), 75 Monza (262 small block - 29.6 mpg), 70 1/2 ton pickup (350 replaced the 307), k5 blazer (forgot the year but closer to .6 mpg than 29.6), 73 Camaro (350), 75 Camaro (350), 70 Eldorado (500 ci engine), etc. It's likely I missed a few. Wut!? No Chevelles?! My Caprice certainly takes the prize for top speed. It may also be the quarter mile king.
Doing the SS interior is ambitious. I'm sure you're aware of the "no budget" thread. My ambitions are tamed with age but my Caprice adventure isn't over. I am currently installing G8 buckets. There'll be more as time goes on which is enough to tickle my interest.
Best of luck with your "adventure".
Current: 2013 9C3, deeper trans pan, 12VoltSolutions Remote, Class III hitch, Android Auto capable radio
---
Welcome! That is some good work on that. Even got rid of the spotlight hole.

Having done the G8 interior swap, I know it's a challenge and reading that other thread, a whole SS interior looks to be even more of a challenge.

The Chevelle is gorgeous too. Love the resto-mod with an LS engine.
2011 Caprice PPV, 1 of possibly 3 in Canada!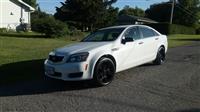 Build Thread:
http://www.newcaprice.com/forum/viewtopic.php?t=2419
---