This. Well a few weeks ago but still.
---
Posts: 567
Joined: Mon Sep 11, 2017 10:17 am
Location: North Jersey
Clean! Some PBM G8 handles would go well with it
-J
2012 Caprice
2008 CVPI

Both gone but not forgotten...
---
---
Not today, last Friday, filled the tank and put her to bed in storage for the long winter slumber, just before the snow hit.
2011 Caprice PPV, 1 of possibly 3 in Canada!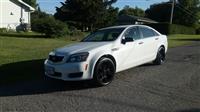 ---
Did the Trans Fluid, filter, Camaro pan. Such a weird procedure. I half think it was previously over-filled but all other indicators are that nothing more than oil changes occurred on this car (cabin filter and air filter both looked original). I put the Camaro pan and filter on. My car has 57K miles. Trans fluid looked kinda dark. I've owned the car for 2K miles.
Somebody has to help me understand what the "2nd gear flare" is all about. I hold the Traction Control button for 5 seconds, put the car in manual shift and launch out of first. I tap forward at around 6K RPM and the engine seems to give up for the shift and then re-engage after in second. Is that flare folks are talking about?
Not today but recently did cabin filter, WW blades, air filter, oil change with Costco oil (Surprisingly made engine quieter - don't know what previous oil was but filter was some bingo brand) and Wix filter. New tires from Costco (better deal for same tires than Tire Rack) - "Michelin PILOT SPORT AS4 235/50ZR18 101Y XL BSW UHP ALL SEASON TIRE " on the steel wheels.
Looking forward to cam upgrade. Stock on these beasts is: .478/.466 198/208 116 LSA. Kinda want to got 550/550 210/230 115 LSA. All my target numbers are "about". Mostly want to disable DOD but what a great opportunity to upgrade my lift and duration
. Will need: cam, lifters, push rods, other DOD Delete items and of course a nice tune.
---
Posts: 116
Joined: Sun Mar 03, 2019 2:18 am
Found and mounted this on to an existing plate coming out of my headliner
Attachments

F22AE8BC-DF31-4BD0-AFD6-314F26D82F42.jpeg (3 MiB) Viewed 176 times
---