Forum rules
Listings acceptable to post in this section are Caprice PPV's for sale by individuals, government entities (I.E. direct sale/auction/sealed bids), and the occasional car for sale on dealer lots (trade-in's for example) that do not normally sell Caprices. EBAY/Craigslist/auction site ads are OK for the above as well. Please do not post third party ads for cars on behalf of dealers that routinely sell used PPV's as part of their primary business. Listings by members with under five forum posts may be removed without notice, please check with a moderator if you have questions. SPECIAL NOTE - We have no role or liability in any transactions other then to provide a venue to advertise the items. Disputes must be resolved independently between the parties involved in any transaction.
Saw this online and had to share. I guess if someone is looking for both a PPV and a car that looks like a chicken then this is for you!
Attachments

Screenshot_20200501-091141~2.png (1.69 MiB) Viewed 490 times
2012 Caprice 9C1
1997 Lexus LX450
1993 Jeep Grand Cherokee
1991 Jeep Wrangler
1977 Ford F150
---
Just saw @yuckydog's post from January. Guess it didn't sell?
2012 Caprice 9C1
1997 Lexus LX450
1993 Jeep Grand Cherokee
1991 Jeep Wrangler
1977 Ford F150
---
I wonder why?
2011 Caprice PPV, 1 of possibly 3 in Canada!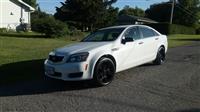 ---
System Manager
Posts: 1928
Joined: Thu Nov 29, 2012 4:32 pm
Location: East Central Florida
Contact:
I just DARE someone to run this in the quarter mile at the Holden Extravaganza!
System Manager and your tourguide for the day. Caprice Alumni, former owner of a 2011 Caprice 9C3 with a Rotofab CAI and front radiator cover, 3.45 LSD Camaro rear diff, Chris Henry performance tune, G8 GT 18" Enkei rims w/Holden lions, custom SLP axle-back muffler set with tips, Holden WM Caprice factory spoiler, Holden SSV leather steering wheel and leather shift knob, Whelen Alpha-12Q airhorn amp. G8 GT rear seat swap, AVS Ventshades.
---