Forum rules
Welcome to the system! If you're a new member we'd suggest making a first post here so that the members know you're alive & on-board!
Posts: 1
Joined: Sun Nov 10, 2019 4:55 am
Hello, From south side Chicago
---
Welcome. Any pics?
2016 C1
---
Welcome! Yes, pics and some info about your PPV would be nice.
2011 Caprice PPV, 1 of possibly 3 in Canada!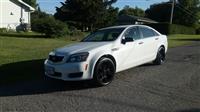 ---