Forum rules
Welcome to the system! If you're a new member we'd suggest making a first post here so that the members know you're alive & on-board!
Hello I picked up my car in April drove it from texas to Iowa already started to do some upgrades had to do a dod delete with more to come
---
---
Very nice. Welcome!
2011 Caprice PPV, 1 of possibly 3 in Canada!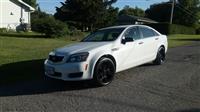 ---
Welcome! What part of Iowa? I'm in the Omaha, NE area.

Maurice
Maurice Sheil
mhsheil@gmail.com
2011 Caprice Phantom Black 9C3
2012 Impala 9C1
1995 9C1 Caprice
1996 GMC Sierra C1500
1974 SJ Grand Prix 455 well optioned with factory moon roof
---
Thanks i am.in the des Moines area hopefull Saturday if i get time i will post my torque converter and amr header install
---
You have another member in the Des Moines area. He has been quiet lately, but, a good guy. Maybe he will chime in here. I drive through that area occasionally. I've been known to haul small parts...
Maurice
Maurice Sheil
mhsheil@gmail.com
2011 Caprice Phantom Black 9C3
2012 Impala 9C1
1995 9C1 Caprice
1996 GMC Sierra C1500
1974 SJ Grand Prix 455 well optioned with factory moon roof
---