Has anyone used an afm disabler and if so any issues with them, i recently put a axel back exhaust on mine and it sounds great when its running on all 8cyl but 4cyl mode sounds well like a 4cyl with an exhaust would.
---
---
Would seem like a waste of money considering it does only the one thing and you already have a better exhaust on. Why not just get a tune for entire car, both ECM and TCM are going to get modified and then you can enjoy more than just the better sound. On the handheld device I have I was able to get multiple octane tunes that are switchable in a manner of minutes and I'm sure you could have a AFM on/off one done if that's your goal also. Otherwise with that kind of miles you have nothing to worry about unless the engine idle hours is super high. I installed a LS3 OEM cam on my car with 20k and am continuing to use and benefit from the AFM, most all of the failures of these across the GM lineup are on high miles engines with questionable oil change intervals or extended idle. The computer engine oil life monitor system on my car has never gone below 60% and I religiously change oil at 6months regardless of miles I fear tons of owners are out there running standard oil for well over a year.
---
But until you either get the disabler or a tune, you can unplug the vacuum sensor on the brake booster. Of course you'll get the SES light but you'll know what it's for. I've done it on mine, works fine. This sensor is solely for the AFM system.

Disabler seems like a waste of money. I'd just get a tune. Better bang for the buck.
2011 Caprice PPV, 1 of possibly 4 in Canada!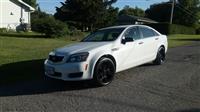 ---
This is an old thread but the Ranger AFM plug in delete works perfect. Paid $189 right from online Ranger dealer.
Unplugged it once for a service visit. The only thing I have found in my research is that you don t want to buy from a non ranger dealer because although you may save $20 you may not receive the latest updated version. Many older versions had some issues setting off dash light etc..
I get differing opinions on if this delete will prevent DOD lifter failure. IMO it will stop one of those 4 cyl lifters to remain stuck down because they never will go into action. Just my thought on that but some tech s have agreed.
2016 C1
---
---
still working great!
2016 C1
---
---
Posts: 82
Joined: Tue Mar 13, 2018 11:34 pm
Changing the cars computer settings (ECM/PCU) that control spark timing, fuel ratio, gear selection, etc. DOD can be permanently turned off.
2016 Caprice
---
So with a proper "tune", I can disable DOD without having to purchase and install an AFM disable mechanism?
---