Forum rules
SPECIAL NOTE - We have no role or liability in any transactions other then to provide a venue to advertise the items. Disputes must be resolved independently between the parties involved in any transaction.
Posts: 7
Joined: Tue Jun 09, 2020 1:01 pm
In search of a fan control module for a 2015 (I think 2014+ used the control module). I have found them online for around $140, just trying to save a little bit. Don't need the whole fan assembly, just the control module. Thanks
---
Posts: 216
Joined: Thu Feb 07, 2019 5:49 am
You should try the Facebook group. Last year I had to import one from Australia when mine failed.
---
2011 Caprice PPV, 1 of possibly 3 in Canada!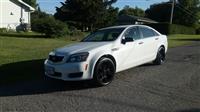 ---
Think I have one off a 14. $60 shipped.

If you are interested let me know I will dig it out.
---